Sonic Runners Returns, No Spike Walls
by Ryan Bloom
December 1, 2015
Some bugs fixed, others not
If you're a frequent Sonic Runners player, then the 2.0 update has been kind of a rough one. The sweeping change to the game's balance have had many players on edge, and on top of that, the game seemed to deliberately put up impassable barriers once a player reached 10,000,000 points, seemingly designed to force runs to come to an end early. It really seemed like the overall goal was to push players to spend money in order to extend their runs, a common tactic in the free-to-play mobile space.
Despite this, Sega vowed to fix whatever the cause of this was, and the game has spent the last 36 hours in extended maintenance as a result. It's back online now, and here's the official changelog:
– Emergency Maintenance Announcement –
Thank you for playing Sonic Runners. As a result of the emergency maintenance conducted around 3AM (UTC) on November 30th, the following changes have been implemented:

– Fixed an issue where a blank page would be displayed after logging in.
– Fixed an issue where the game would not start after tapping the Play button.
– Fixed an issue where the placement of certain obstacles in Story Mode caused them to be unavoidable.
– Adjusted progress scoring in Story Mode.
– Changed some of the rewards gained from completing Episode 50 in Story Mode.
– Improved the rewards gained from consecutive victories in Daily Battles.

– Event Extension –
The following event has been extended:
– Fantasy Zone Collaboration

– Ranking/Battle Promotion & Rewards –
Due to the emergency maintenance, results may not be tallied accurately. The following will be implemented for results originally scheduled to be tallied on November 30th:

– Promotions for all participants in Story Mode and Quick Mode Runners' Leagues.
– Distribution of Story Mode & Quick Mode 1st place rewards.
– Additional consecutive victories in Daily Battle.
Note: Results may differ from what is displayed in-game.

– League Reward in Story Mode –
Some players are experiencing an issue with receiving a Buddy for the League Reward. We will send compensation to the players later.

– Maintenance Apology –
As an apology for this emergency maintenance, we will be giving the following items to any user who logs in to Sonic Runners in the week following this maintenance:

– Premium Roulette Ticket x 2
– Token x 10

Items will be delivered to your Gift Box.

We apologize for any inconvenience this may have caused, and hope you continue enjoying Sonic Runners.
If you are a frequent and highly ranked Sonic Runners player, you could theoretically be booting the game up to some pretty significant rewards, far beyond what you'd typically receive: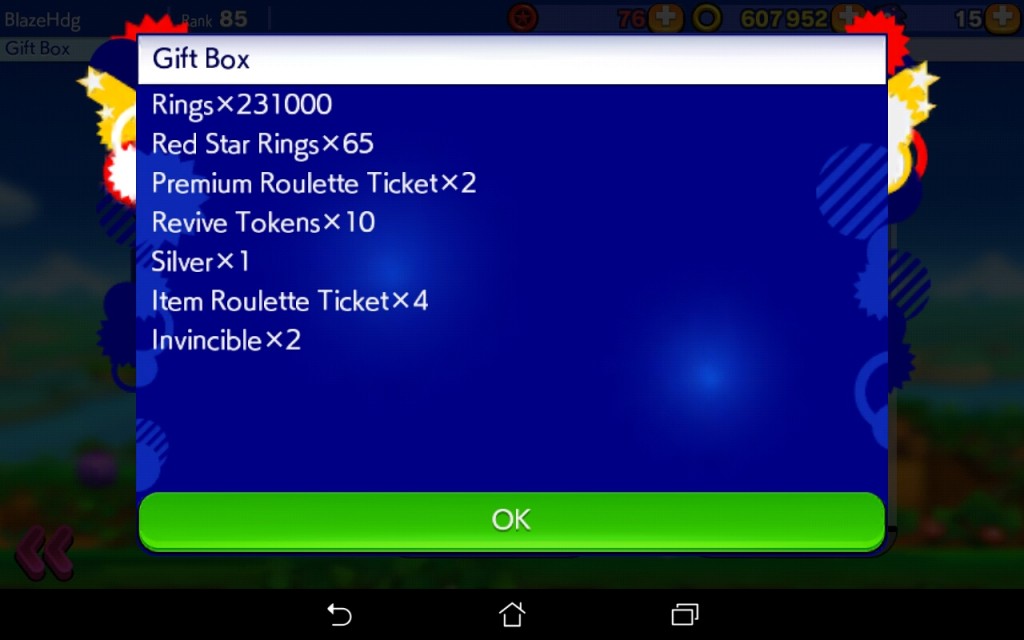 Unfortunately, not everything has been fixed. At least on my device, editing my team setup or viewing the leaderboard will still cause significant performance problems (eventually crashing Sonic Runners), and missiles still appear in Quick/Timed Mode, despite the fact the tool tip explicitly states they should not be there.
We'll keep posted should any further updates arrive.