Revised Sonic 25th Anniversary Logo Appears
by SSF1991
December 27, 2015
Once again SEGA has been foreshadowing Sonic's anniversary. But this time it isn't just a sneaky little inclusion found in a lucky photo. This is straight from the company's Japanese Twitter, the first time the company has publicly acknowledged it.
SEGA has debuted a revised 25th Anniversary logo. They're asking what people wish their new Twitter banner to be. One of the choices had the logo.
も~い~くつね~る~と、お正月~♪ というわけで、あなたのお好みのカバーは新作のA案、去年人気だったB案のどちら?? 人気だった方が、来年1月1日~のカバー画像になります☆ (回答受付は12月28日16:00まで) #SEGA pic.twitter.com/WCtYXyrQUb

— セガ公式アカウント (@SEGA_OFFICIAL) December 28, 2015
For comparison's sake, on the left is the logo we have been seeing over the course of this year. The one on the right, the image having been blown up in size to be seen easier, is the new one.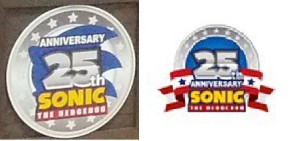 However there is one catch to all of this. This may not be the full logo. In fact the logo was supposedly first shown off at last night's Sonic Appreciation Festival at Joypolis. That version, according to details that have surfaced, may have had a Classic Sonic's head but with green eyes.
So it seems that the 25th anniversary logo revealed at the Sonic fan festival had Classic Sonic on it, but with green eyes. Oh boy.

— BlueParadox (@BluParadox) December 27, 2015
According to a source, this logo had Classic Sonic (with green eyes) on it. Not sure why they removed him though. pic.twitter.com/vSa0OyrCdX

— BlueParadox (@BluParadox) December 28, 2015
@TimmiTBoom Not sure. All I know is that the logo had Classic Sonic's head on it, and he had green eyes.

— BlueParadox (@BluParadox) December 27, 2015
Obviously there is plenty of speculation on that. We have nothing to go by other than these tweets. But if we get a screenshot of the logo with the green-eyed Classic Sonic on it we'll let you know.
For now it seems we have the official logo that SEGA will be using for Sonic's 25th anniversary.