Metallic Madness Day 1 Results and Analysis
by Tristan Oliver
March 18, 2016
Here is how the inaugural Metallic Madness competition stands after the first day of competition, in which you and the community offered nearly 1,300 votes on our Twitter feed: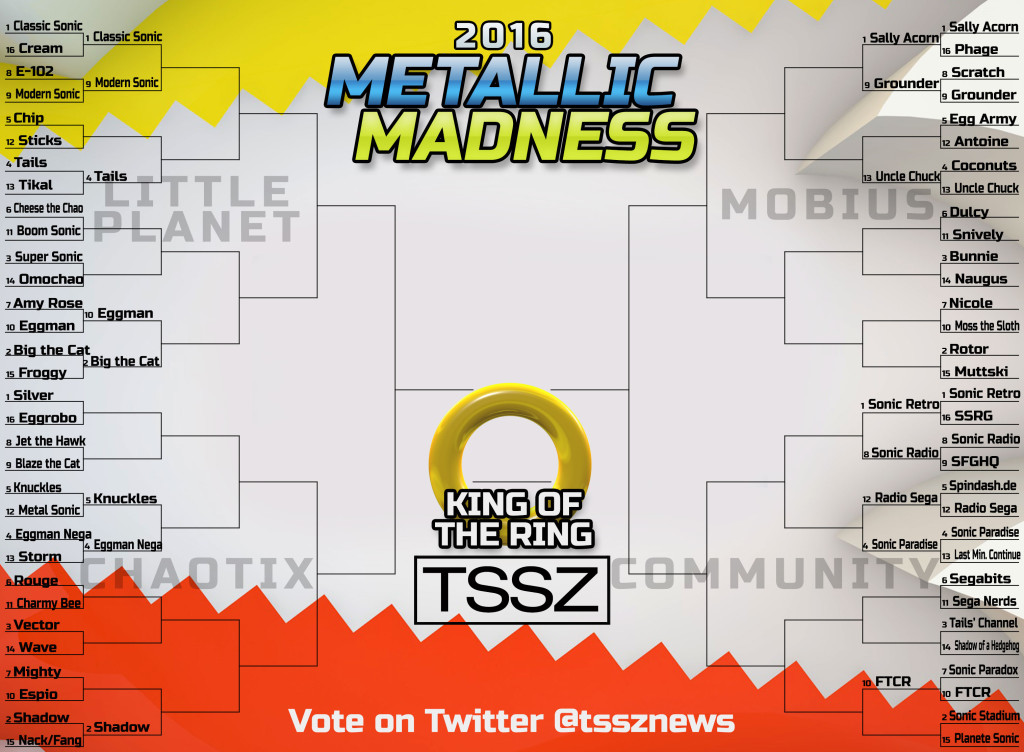 There were some surprises in the votes, with three double-digit seeds still surviving and plenty of opportunity for more to follow suit on Friday.
The key takeaways from day one:
The Community Division is the most competitive. No duh. Since we're dealing with real, tangible entities with real people behind them, there are bragging rights at stake, and much more engagement as a result. While Sonic Retro may appear to have an easy road to the final rounds, many other sites have proven they can rally their fans and get in the vote. Already, there is much interest around the Segabits vs. Sega Nerds matchup on Friday. There is a real possibility a double-digit seed could win this division.
The Mobius Division is the most vulnerable. While Sally Acorn easily advanced to the weekend round, it was with, by far, the least amount of support versus the other top seeds who have competed so far. With two upsets already in the books in the Mobius Division, being a top seed there isn't as much a lock as it appears.
Classic Matchups are already in the cards. This weekend, Classic Sonic will face Modern Sonic in the Little Planet division–the ultimate test to see which Sonic fans enjoy the most. Eggman versus Big will serve as a true Battle of the Bulge. Plenty of possibilities in the other divisions, if they pan out, are sure to pique your interest.
People are happy we included the entire Chaotix, especially Charmy Bee. Seriously–who does that? Bees are creatures you usually swat away or throw blunt objects at. People forget that bees pollinate flowers. That's critical to our ecosystem. Also, have you noticed Charmy got freakin' huge between Chaotix and Sonic Heroes? Did he find Godzilla's secret stash of nuclear radiation. That dude may be more diabolical than anyone could imagine, so of course we won't forget Charmy. Next year, maybe we won't forget NiGHTS. (Points if you understand the callback.)
Seriously (or not)–it's just a fun thing to pass the time. We're doing all this in good fun and sportsmanship. Yes, there will be a winner in the end, and ultimately you decide who that is, but try not to take it too seriously.  We are just as sad as you that Big had to KO Froggy. We promise everyone shakes hands afterward. Except in the case of Segabits vs. Sega Nerds–we honestly don't know how that will shake out. I'd get a helmet and a sturdy table to duck under for that.
With that all said, here's the competition schedule for Friday:
12:30 PM ET:(3) Tails' Channel vs. (14) Shadow of a Hedgehog – Community and (2) Sonic Stadium vs. (15) Planete Sonic – Community
1PM ET: (6) Cheese the Chao vs. (11) Boom Sonic – Little Planet
1:30 PM ET (3) Vector vs. (14) Wave the Swallow – Chaotix
3PM ET: (3) Chip vs. (14) Sticks – Little Planet and (6) Segabits vs. (11) Sega Nerds – Community

4PM ET: (6) Rouge vs. (11) Charmy Bee – Chaotix and (3) Super Sonic vs. (14) Omochao – Little Planet
7PM ET: (7) Nicole vs. (10) Moss the Sloth – Mobius and (3) Bunnie Rabbot vs. (14) Naugus – Mobius
7:30 PM ET: (1) Silver vs. (16) EggRobo – Chaotix and (7) Mighty vs. (10) Espio – Chaotix
9PM ET: (6) Dulcy the Dragon vs. (11) Snively – Mobius and (5) Egg Army vs. (12) Antoine D'Coolette – Mobius
10PM ET: (8) Jet the Hawk vs. (9) Blaze the Cat – Chaotix and (2) Rotor vs. (15) Muttski – Mobius
Remember–you can only vote in the competition via our Twitter. Gentlemen, start your engines.