Metallic Madness Emerald 8 Day 1 Results and Analysis
by Tristan Oliver
March 27, 2016
You may have noticed we skipped over Friday's Metallic Madness results. That's OK–we had to jump right into the Emerald 8 rounds on Saturday. Currently, here's how the bracket looks ahead of today's competition: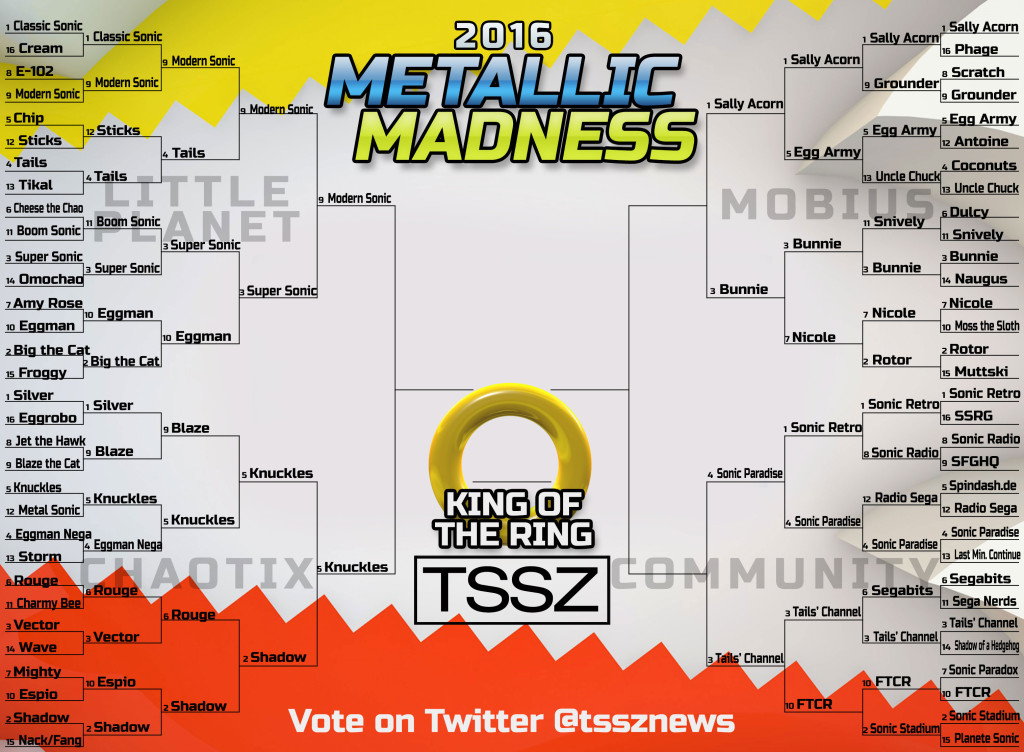 Some takeaways from the current setup:
Sally Acorn is the Only 1 Seed Left. We doubted her ability to navigate the "anything goes" Mobius division, but her perseverance has brought her to a critical match with 3 seed Bunnie Rabbot on Sunday, watching while 1 seeds in every other division were picked off. A female character will be a part of the Final Zone–it's just a matter or who or whose fans want it more.
Green Eyes? What Green Eyes? Modern Sonic continues to upset every single opponent he's face so far in competition. He's won the Little Planet division and will represent the group in the Final Zone versus Knuckles, who also surprisingly beat 2 seed Shadow to win the Chaotix division. It sets up, as TSSZ Twitter follower Neo so poignantly put it:
@tssznews pic.twitter.com/pBniJn3VCn

— Neo (@NeoTechnoman) March 27, 2016
Memes Trump Momentum.  Fourth seed Sonic Paradise not only took out top seeded Sonic Retro in the community division in our heaviest round of voting so far, but with almost equally great turnout, third seed Tails' Channel stopped cold the strong momentum of tenth seed Find the Computer Room with little effort. The match for the Community division is expected to be hotly contested.
Here's the voting schedule for today. Remember, voting takes place exclusively on Twitter and will determine the Final Zone matchup next weekend.
Sunday 1PM ET: (4) Sonic Paradise vs. (3) Tails' Channel – Community Division Title
3PM ET: (1) Sally Acorn vs. (3) Bunnie Rabbot – Mobius Division Title