Metallic Madness Emerald 8 Day 2 Results and Analysis
by Tristan Oliver
March 27, 2016
It was another day of feverish voting as the second half of the Final Zone contenders were decided in our ongoing, fun, meaningless Metallic Madness competition on Twitter. We now have the four who will duke it out next weekend after a round of more than 800 votes today. Here is how things shook out: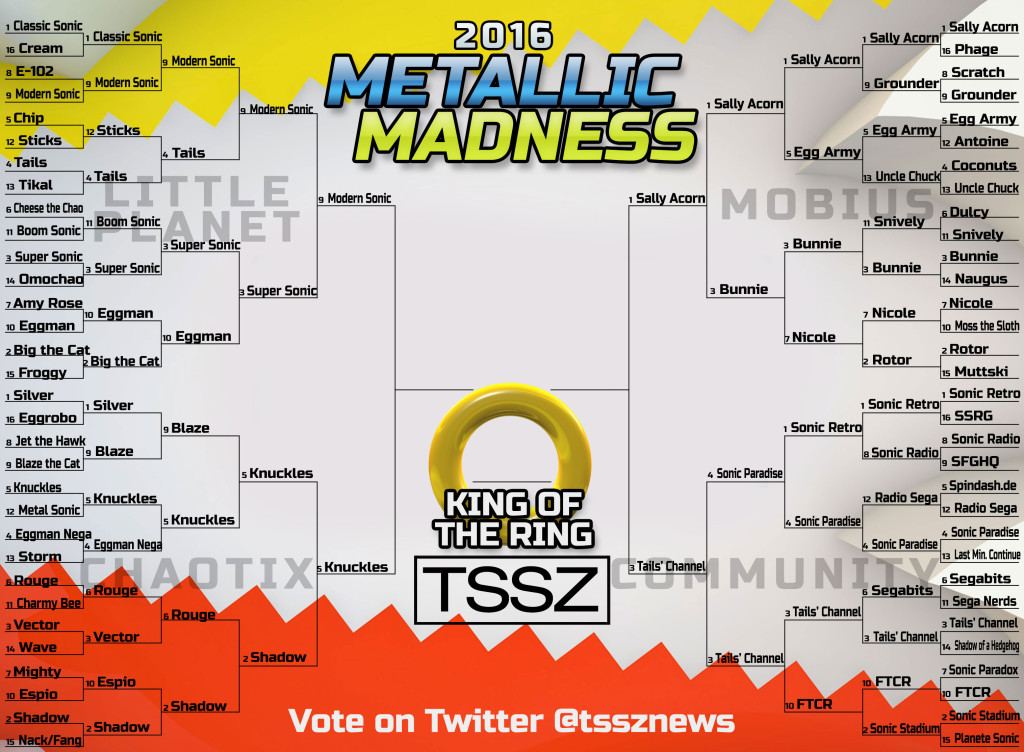 As always, here are observations from the day:
The Community Probably Needs to be Spread Among At Least Two Divisions Next Year. Today's bout between third seed Tails Channel and fourth seed Sonic Paradise was by far the most contested battle of the pretend tournament, with close to 750 votes cast. It was so intense, we delayed the second match an hour. The round included these gems:
If Tails' Channel wins the @tssznews thing I will go to a convention in a mustard costume. https://t.co/8g9d5nlKvA pic.twitter.com/AwDhyddura

— M A N N H E I M E R (@TailsChannel) March 27, 2016
@tssznews @TailsChannel I have some extra hot spicy Mexican sauce. I dont tolerate hot spices. Will eat it and record a video!

— Sonic Paradise (@sonicparadise) March 27, 2016
In the end, our own Matt Mannheimer could be the one with mustard on his face–and, we suppose, everywhere else–if he wins it all. Given how elevated voting has been in the Community division, that seems very possible.
Girl Power Is Still a Thing. The second match to determine the Mobius division winner was a close one between first seed Sally and third seed Bunnie. It was Sally who prevailed, making her the only one seed in the Sonic Scene of 64 to make it to the Final Zone. Still, her match versus Tails Channel will be formidable. Sally has found a way to win every match to date though, as good Freedom Fighters generally do. Don't count her out.
Can Knuckles Chuckle at Modern Sonic? It's been dubbed the Civil War by fans and onlookers, and the second bout next Saturday will surely put a test to loyalties across the fanbase as underdog Modern Sonic looks to keep upsetting the ranks on the way to the King of the Ring. So far, Mr. Green Eyes has taken out a 1 seed, a 3 seed, and a 4 seed, so a 5 seed should be no problem, right? The Little Planet division never disappoints when it comes to big matches, and its next (and potentially last) one will be no exception.
Beginning next Saturday, you'll have four hours to vote in each match. The winners of each face off on Sunday at 1PM ET in a 6 hour duel for King of the Ring. Again, voting takes place exclusively on Twitter.
3PM ET: (1) Sally Acorn vs. (3) Tails Channel
6PM ET: (9) Modern Sonic vs. (5) Knuckles
Remember: Bet with your mind, not with your heart. Or don't bet at all, because it's still not a real competition.