Metallic Madness Day 3 Results and Analysis
by Tristan Oliver
March 19, 2017
There were a few small surprises Saturday as your votes determined half of the Metallic Madness Speedy 16, which will compete at the end of next week. All the pieces aren't set in stone yet, but already some stellar matches are in the cards for the Speedy 16. First, there are still some great bouts to get through on Sunday.
Here is how the brackets look after tonight: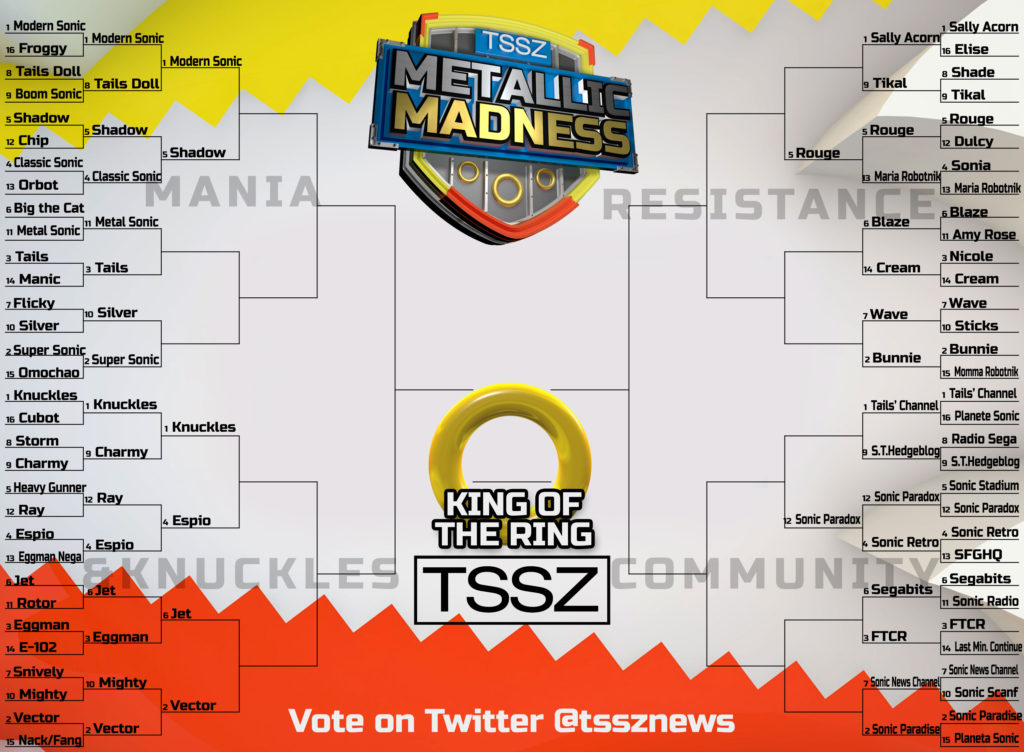 Saturday saw two upsets of varying degree: First, fan favorite Shadow defeated Classic Sonic, taking the retro blue dude out of the tournament in the second round for the second straight year. In more significant news, Sonic Paradox, ousted in the first round last year, is headed to the Speedy 16 as a 12 seed, in a major upset of 4 seed Sonic Retro.
Maria Robotnik, who looked to be on a hot streak, got taken out by Rouge. She will face the winner of the Sally/Tikal match today.
Knuckles continues to dominate his division, though in the Speedy 16 next week, he will have a much more formidable opponent in Espio. Still, the &Knuckles looks to proceed as formally as a bracket can, with a 1-2 seed matchup for the division title very possible.
Shadow could be the first in this tournament to take out a 1 seed in the Speedy 16. Modern Sonic, the champion of last year's tournament, now looks vulnerable. But it will be your votes that ultimately decide.
Sunday's match-ups, among other things, will determine whether Tails continues in the tournament, or if Metal Sonic can make waste of the two-tailed fox. There will also be three community division matches that are certain to be competitive.
Here's the schedule. Remember: Voting only takes place on our Twitter feed. All times are Eastern (ET).
3PM: (10) Silver vs. (2) Super Sonic
3:30PM: (1) Sally Acorn vs. (9) Tikal
4PM: (7) Sonic News Channel vs. (2) Sonic Paradise
4:30PM: (11) Metal Sonic vs. (3) Tails
8PM: (6) Blaze vs. (14) Cream
8:30PM: (6) Segabits vs. (3) Find the Computer Room
9PM: (7) Wave vs. (2) Bunnie
9:30PM: (1) Tails' Channel vs. (9) Sonic the Hedgeblog