TooManyGames: Johnny Gioeli Reflects, Then Rocks
by Tristan Oliver
June 24, 2017
Johnny Gioeli, the American half of wildly popular Crush 40 and a nearly 35 year veteran of hard rock music, told a modest crowd at TooManyGames in Philadelphia on Friday that of all his work, it's game music he finds the most rewarding to produce, and gamers the most rewarding to entertain.
"I love you guys," Gioeli told attendees to rousing applause. "Gamers stay forever."
Gioeli was warmly welcomed to the fourteenth iteration of the regional gaming convention in the city that loves you back, and Gioeli returned the reception in spades. Twice, Gioeli the artist was in full form–be it his occasional outbursts of song during the afternoon panel–its start time delayed ten minutes simply so he could sign some autographs–or the full suite of Sonic songs played to a full house of fans later in the evening. But in the former, attendees saw Gioeli the human; the admittedly tired man still giving his career his full attention, hopping from plane to plane to attend TooManyGames on time. Gioeli, the ambitious child who began playing guitar at eight years old, and at age 11 regularly skipped school to play gigs with his parents' blessing. Gioeli, the rocker who after finding enormous success with Brunette, Axel Rudi Pell and Hardline, could never in his wildest dreams imagine the loyalty and appreciation fans could hold for a video game franchise he has never played.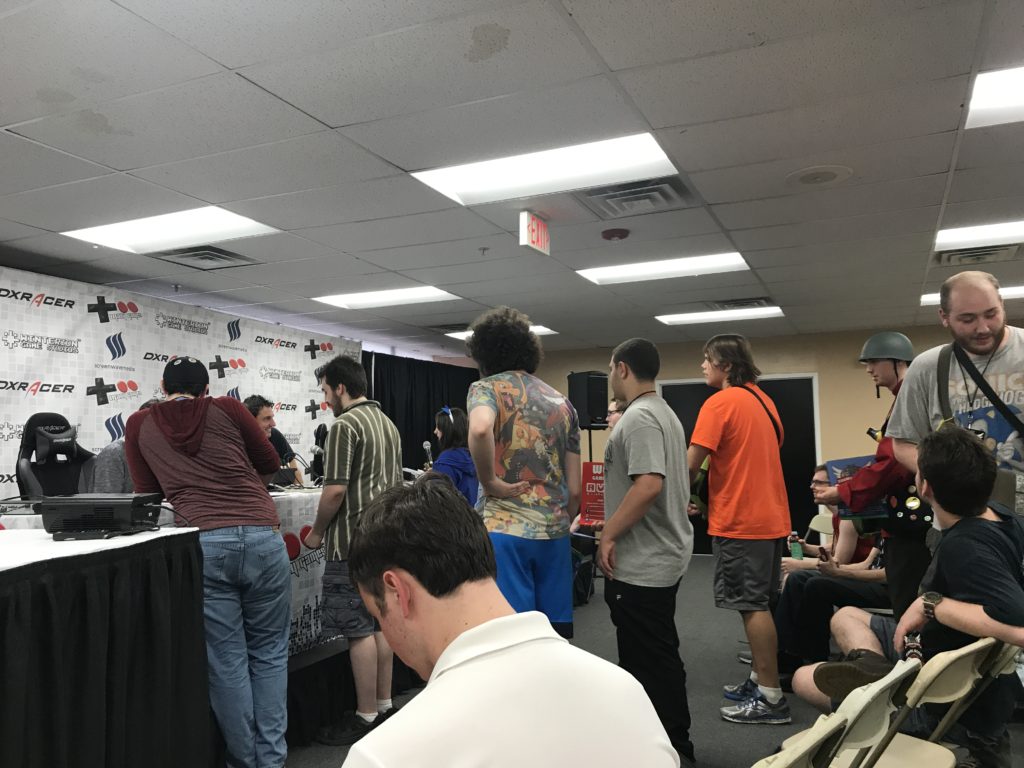 Well, almost never played. Gioeli conceded to panel attendees that Sonic & Sega All-Stars Racing was the only Sonic themed title he's directly familiar with. But he is well aware of the controversy surrounding the 2006 Sonic the Hedgehog, in which Crush 40's All Hail Shadow was included.
"I don't know anything about the games…except that Sonic '06 sucks," Gioeli quipped at the panel. "We'll fix that. We're gonna solder it and fix it."
Indeed, Gioeli doesn't know the games like the players ultimately do when composing for them with Jun Senoue. That's because the process behind the music isn't what you'd expect.
"We just look at a piece of paper that has these pencil drawings," Gioeli explained. "There's some English to kind of just give a quick synopsis of the whole scene… We have to envision what this scene looks like completed. Do you understand how difficult that is?"
Still, for the now 20 years he has worked with Senoue, Gioeli at the panel sang nothing but praise for the Sega sound director.
"Jun is like a brother," Gioeli said. "We just click."
That's not easy to do these days. Gioeli explained during the panel how much of his recent business communication with Senoue is done electronically.
"Ten out of the 20 years I didn't see Jun at all in the studio," he said. "First ten, it was kind of old-school… Second half of the career, 'send me a file,' 'send me a storyboard,' and then we'd build it from there."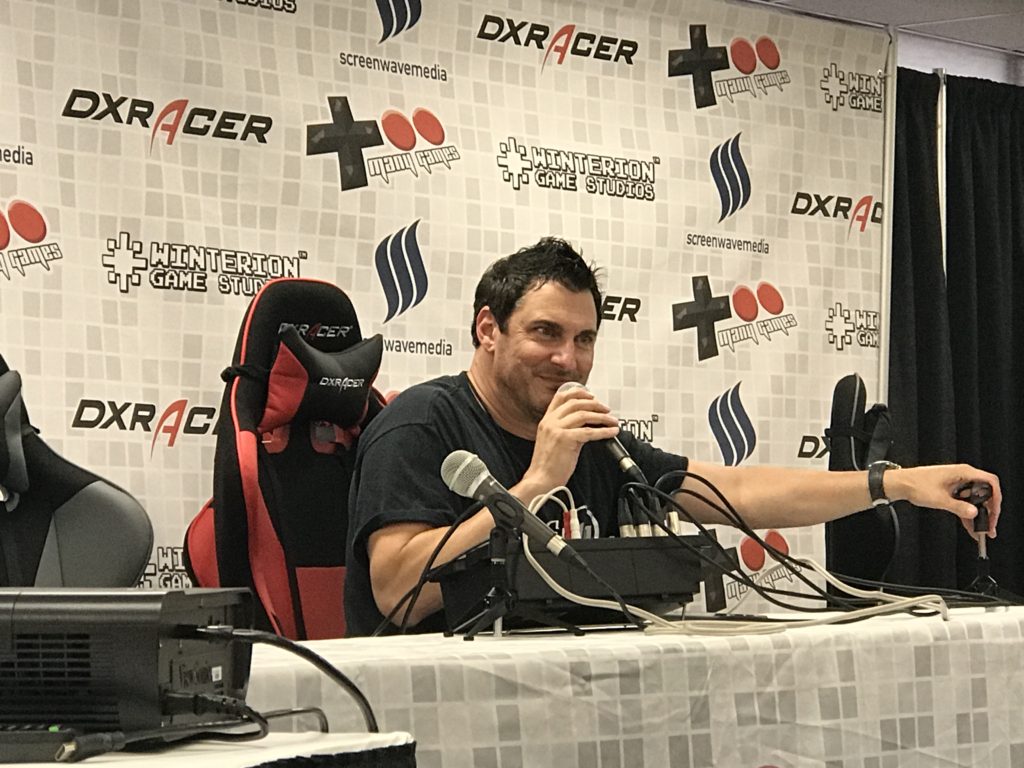 The tale was also told of how Crush 40 as a name came to be, necessitated by the reformation of a European band also called Sons of Angels. Like most, Gioeli feared aging, and saw his approach toward age 40. He simply wanted to crush it. At the panel, Gioeli jokingly contemplated a name change of the band to Crush 50.
Not all of these reminiscences were immediate crowd pleasers. The most intriguing point of the panel was, perhaps, a by-product of his dedication to the craft.
"I didn't think that Live and Learn was good," he said during the panel. "Honestly."
It turns out Gioeli was not completely satisfied with the work that has now become synonymous with the Sonic Adventure franchise and among the most instantly recognizable themes of Sonic's history.
"I go, shit, why didn't I had a harmony line?" Gioeli told the crowd. "And I remember calling Jun and saying, is it good? And he said, 'Yeah, are you kidding?'"
Live and Learn at @TooManyGames – definitely a shared experience pic.twitter.com/PPglSRmTf5

— TSSZ (@tssznews) June 23, 2017
It would be Live and Learn that Gioeli closed out his set with later in the evening to thunderous applause and audience participation. And it's the Learn part of Live and Learn that has driven Gioeli throughout his entire career–though not quite in the way you think.
As an artist, he cites Freddie Mercury and Frank Sinatra–two distinctly different singers–as inspirations. But Gioeli also notes them as rare exceptions to an upbringing that did not include an on-hand record collection.
"I was kind of like my own planet," he said. "I didn't want to be inspired by anyone."
Learning, then, was largely an individual undertaking–one Gioeli regularly sacrificed traditional learning for. He revealed to the crowd that he regularly skipped school for days and occasionally weeks at a time. He later dropped out of high school in his senior year to pursue his music career full time, eventually earning a GED.
To take the path Gioeli did would be frowned upon in his era of upbringing and ours. The alternative never crossed his mind. In what he dubbed a "nice speech"–impromptu remarks he insisted were not prepared, and can be seen below–Gioeli took what he learned from that path to encourage attendees to find their own that best suits them. It is through that path, and success found in it both through game music and rock, that Gioeli found the closing words to the discussion before solemnly thanking those in attendance; a proverbial extension to the music, lyrics, and words that made him famous in the Sonic community.
"Learn. And be humble."
You can see more excerpts of Gioeli's concert on our Twitter feed.