TSSZ Metallic Madness 2018 Brackets Revealed
by Tristan Oliver
March 12, 2018
The friendly Twitter competition that doesn't really matter at all is back–but this year, we've made it a little more interesting.
Metallic Madness, the frantic voter-driven push to narrow a pool of 64 names of who's who in the Sonic universe to a single King of the Ring, will commence voting on Thursday at noon. Last year, thousands upon thousands of votes were cast in the battle between Spanish fansite (and TSSZ affiliate) Sonic Paradise and Modern Sonic, with the latter emerging as back-to-back champion.
That's no fun, so we've retired Modern Sonic from this year's Sonic Scene of 64, and added an array of new names on the official side. Take a look below.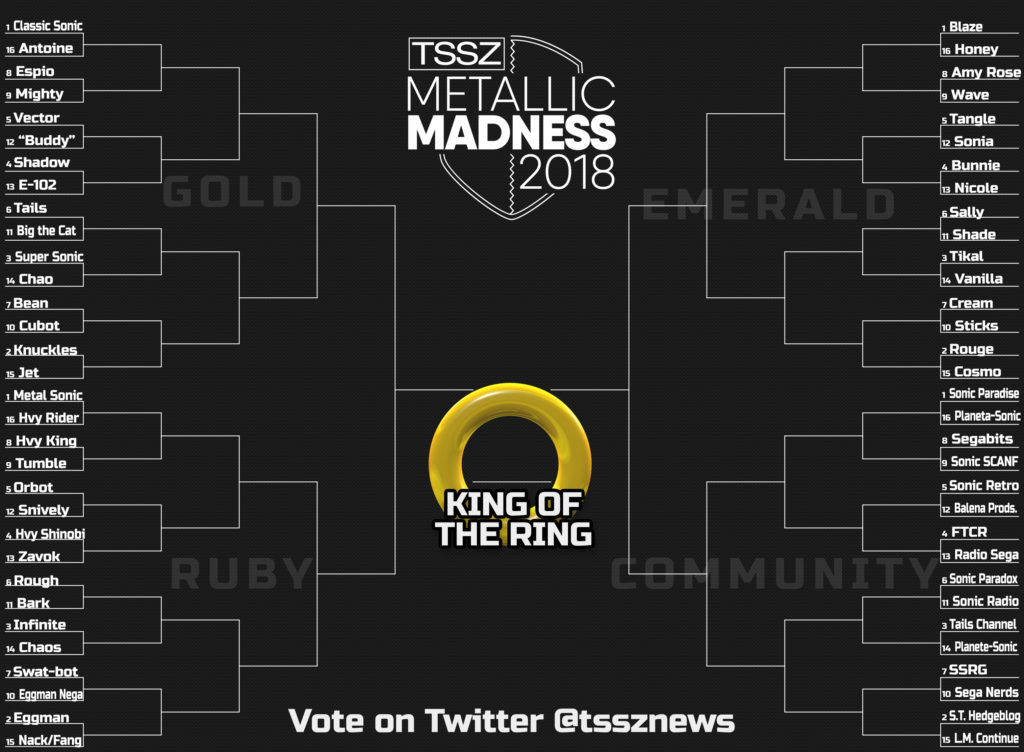 You know the drill by now. Voting ONLY takes place on our Twitter feed, and each round is a two-hour battle royale. We'll start Thursday, and by the end of Friday, we'll have 32 who move on. By the end of the weekend, only 16 will remain. Next week will determine who makes it to the Final Zone.
But this year, we're upping the ante. Whereas the last two tournaments were entirely for fun, we're giving you a chance from now until Thursday at noon ET to predict the winner. If you get it right, you'll win an SNES Classic. (We regret to say that we can only ship within the US and Canada.)
Here's how:
Pick who you think the winner is out of the Sonic Scene of 64 above.
Pick who his, her, or its opponent will be (first tiebreaker)
Give the final combined vote tally among the two combatants (second tiebreaker)
Tag it #MetallicMadness and @ us @tssznews on Twitter so we can find it!
Choose the winner correctly, and you win! In the event of a tie, we'll use the choice of opponent as a first tiebreaker, then the vote tally as a second tiebreaker, where the closest guess without going over wins.
So your entry could look something like this:
@tssznews (WINNER) Classic Sonic vs. Amy Rose – 750 #MetallicMadness
Way better than filling out a bracket, right?
You're probably thinking how easily this contest can be meddled by your votes–and that's sort of the point. The more you vote in the tournament on Twitter and the more you get your friends to vote, the better a chance you'll have to either win or bust someone else's guess!
Sounds good? Here's the lineup for Thursday. We'll announce each day's lineup here and on Twitter:
12 PM ET: (7) SSRG vs. (10) Sega Nerds
12:30 PM ET: (3) Super Sonic vs. (14) Chao
1 PM ET: (4) Heavy Shinobi vs. (13) Zavok
1:30 PM ET: (1) Sonic Paradise vs. (16) Planeta-Sonic
2 PM ET: (2) Sonic the Hedgeblog vs. (15) Last Minute Continue
2:30 PM ET: (6) Tails vs. (11) Big the Cat
3 PM ET: (5) Orbot vs. (12) Snively
3:30 PM ET: (8) Segabits vs. (9) Sonic SCANF
4 PM ET: (1) Blaze vs. (9) Honey
4:30 PM ET: (5) Vector vs. (12) "Buddy"
5 PM ET: (6) Rough vs. (11) Bark
5:30 PM ET: (3) Tikal vs. (14) Vanilla Rabbit
6 PM ET: (8) Amy Rose vs. (9) Wave
6:30 PM ET: (4) Shadow vs. (13) E-102
7 PM ET: (3) Infinite vs. (14) Chaos
7:30 PM ET: (6) Sally Acorn vs. (11) Shade