SEGA Shop Begins Selling Special IDW Comics Bundle
by Ellen McGrody
March 16, 2018
As announced during the Sonic panel at SXSW in Austin, TX this morning, the SEGA online shop began selling a bundle of the first four issues of the new Sonic the Hedgehog comic from IDW Comics.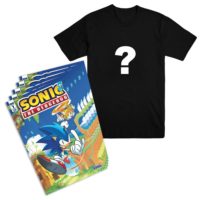 The bundle includes Sonic the Hedgehog issues #1-4, specifically the A cover variants which make an interlocking cover by artist Tyson Hesse, along with an exclusive variant of Sonic the Hedgehog #4 and a bundle-only t-shirt.
The bundle is scheduled to ship on May 1st, with preorders open now. For folks who want to read the comics, buying each in-store or online individually may be a smarter bet, but those looking for exclusive merchandise or variant covers may want to hop over to SEGA Shop to place a preorder.