Koch Media's Sonic Mania Plus launch event in Spain recap
by Andrea Gil
July 25, 2018
Last Thursday 19th of July was the day choosen by Koch Media Spain, European distributor of SEGA retail games in physical format to celebrate Sonic Mania Plus release with an event where fans could try the game for free, and enjoy a nice evening together. It is the first time an official Sonic fan event has taken place in Spain outside of booths at general gaming expos like 2011's Sonic Generations fan meetup at Gamefest, made by Sega of Spain before it closed down and the last time a Sonic Event has taken place in Spain, period. Made in collaboration with Spanish site Sonic Paradise, It is also the first time an official source like Koch Media has collaborated directly with fans to bring to life a Sonic Event in Spain, in a similar way as how Summer of Sonic has come to fruition for years ( but in a much, much smaller scope, of course).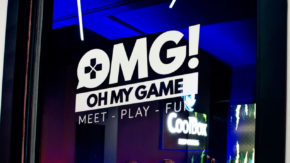 The event took place at Oh My Games! Bar, located at Spain's capital Madrid. The venue is a two stories gaming themed restaurant where people can go to have a nice dinner while they watch some Twitch streamings at some huge TV's, play some games with their consoles and gaming PC's you can rent for hours, and enjoy a good time with friends.
More than 150 people attended Sonic Mania Event, who took place from 4pm to 8pm. It was originally planned to last only until 7pm but since the activities took too long due to massive response by the attendees, it was extended one more hour. The atmosphere has festive and full of fun and companionship, you could see both young and veteran adult fans enjoying alike, playing together and having a great time. In fact, it was very surprising to find so many kids around, proving once more that Sonic is still a very popular brand with children, not only appealing to nostalgics or fandom regulars. People from all corners of Spain came to the event, even if it was announced only the week before, some traveling more than 700 Km in a day only to attend ( and coming back home at the same day!). Even people from far away Latin American countries like Argentina and Venezuela came to Spain, in Europe, only to attend the event!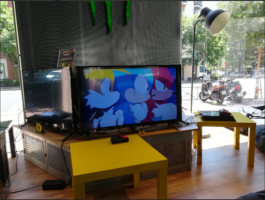 Many known faces from the Spanish Sonic Fan community were present, like youtuber Sergindsegasonic or Sonic sites staff like RACCAR and myself (although I was mostly busy with the event management) from Sonic Paradise or DaGuAr, Sonic Generations Modder and Sonic Reikai member, or Vicky Scarlett, a cosplayer who attended with her Sonic Gijinka cosplay.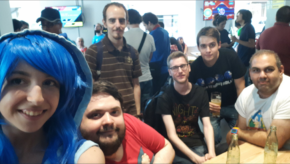 Activities included free play of Sonic Mania Plus at PS4, Xbox One and Switch, free food and non-alcoholic drinks ( only to those with a VIP pass, but many free drink cards were given away at the event so most people could drink freely too), Sonic music and twitch Sonic gameplays streaming being shown at the TV's, and a local Sonic Mania Plus competition mode tournament where 61 people competed for the big prize: a Sonic Mania Plus Press Kit, plus several other smaller prizes for the runner ups. Tournament was very heated up, players competed 1 vs 1 at the first two rounds and 4 vs 4 at the final, rules were one round at Green Hill Zone act 1 with fixed items. Winner of each race passed to the next round until only 4 were left. Janic the Hedgehog was the winner!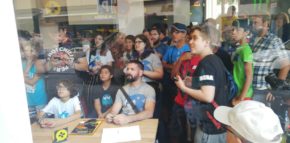 The VIP pass included  free drinks and a Sonic Mania Plus Press kit, only released by Koch Media Spain. As it name says, it was made to be sent to influencers and gaming press, but a few lucky fans got one too by winning a VIP Pass for the event by Koch Media's raffle at Twitter. Lucky ones!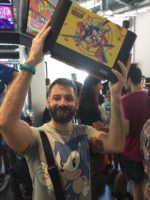 The press kit includes a Megadrive/Genesis Sonic Mania Plus cardboard cart, approximately 50cm long. Inside it you can find a Sonic mania T-Shit, a few stickers and a Sonic Mania Plus artbook ( the same found at the regular retail game found at stores), plus a small chick toy, Koch Media Spain's unique mascot. Assistants also got a Sonic Mania Plus double sided poster, one side showing Sonic, Tails and Knuckles in the regular Sonic Mania Plus yellow cover art, and the other side showing Ray and Mighty at the same background.
There was time for meeting new friends, getting to finally meet in person other fans who you have been talking with at the Internet for years, and reuniting with old friends alike. In the end, that is what really counts, no matter how many activities there might be, this kind of events are there to have fun with other fans and enjoy the passion who unites us all: that blue spiky dude, Sonic the Hedgehog.
To sum up, it was a really good evening, and we hope this is the first of many fan events made with the official support of Koch Media. Who knows, maybe Koch Media divisions from other European countries might be driven by the categorical success Koch Media Spain's one had and make some other too at their respective countries. Maybe for Team Sonic Racing? We hope so!
If you want to see some video footage of the event, I make a more complete round-up of the event ( in Spanish), including video footage here. You can see some footage of the event at 4:30 and a Press Kit unboxing at 29:00.