Google Stadia Gets Price, Date
by Ryan Bloom
June 6, 2019
Live deliciously
Today, Google revealed more information about its Stadia game console. If you need a refresher, Google is banking on our streaming future — one where hardware ceases to be a concern, and everything is piped directly to your home as internet streaming video. Yes, even video games. Instead of having to spend $400 every 5-10 years on more powerful hardware, you make a single purchase and Google handles all of the complicated technology stuff for you. You then simply log in to your Stadia account, Google sends video to your device, and your device sends controller input to Google — a process that will always generate some amount of lag, but Google is hoping you won't notice the latency. In exchange, your games are run on one of the most powerful computing systems on the planet, meaning they'll always look their best on Stadia. In some ways, it almost sounds too good to be true.
In today's "Stadia Connect" presentation, Google outlined bandwidth requirements, price, release dates, and launch titles for the Stadia console.
First, let's talk about release date and price. Or rather, prices, because there's more than one cost associated with this thing. Google Stadia will launch this November with a "Founder's Edition" for a price of $129.99. It includes a Google Stadia controller, a Chromecast Ultra, and a free copy of Bungie's Destiny 2 (which in itself is becoming Free-to-Play soon). Until an undefined date in 2020, the Chromecast will be one of the only ways to play Stadia. The only other way will be through a Google Pixel 3 phone. Google's promise of Stadia on all devices won't happen until sometime next year.
It only gets more costly from there. Games on Stadia will come in one of two flavors: the first is something you're probably familiar with, and that's buying digital versions of games individually to "own" them (or more "license" them, but that doesn't sound as pretty). Google did not say whether or not games on Stadia will be priced comparatively with other platforms, or if you'll get a "streaming only" discount (since, again, you aren't technically owning anything). The other way to get games is through the "Stadia Pro" subscription service. If you've ever used Xbox Game Pass, the concept is similar: for $9.99 a month, you'll get access to a rotating library of older games, all playable at 4K/60fps. Stadia's Founder's Edition will come with three months of Stadia Pro, but after that, you'll have to fit the bill yourself. At launch, a Stadia Pro subscription will be required to play any games, though Google says they are prepping a free, 1080p/60fps way to play Stadia, set to also eventually launch in the year 2020.
Google urges users to buy a Stadia Founder's Edition NOW in order to secure their Stadia username before it's gobbled up by some theoretical user that runs around registering random user names. Why Google isn't letting users freely change nicknames like Steam and Battle.net do, or even just pulling a username from their Google account, is a mystery.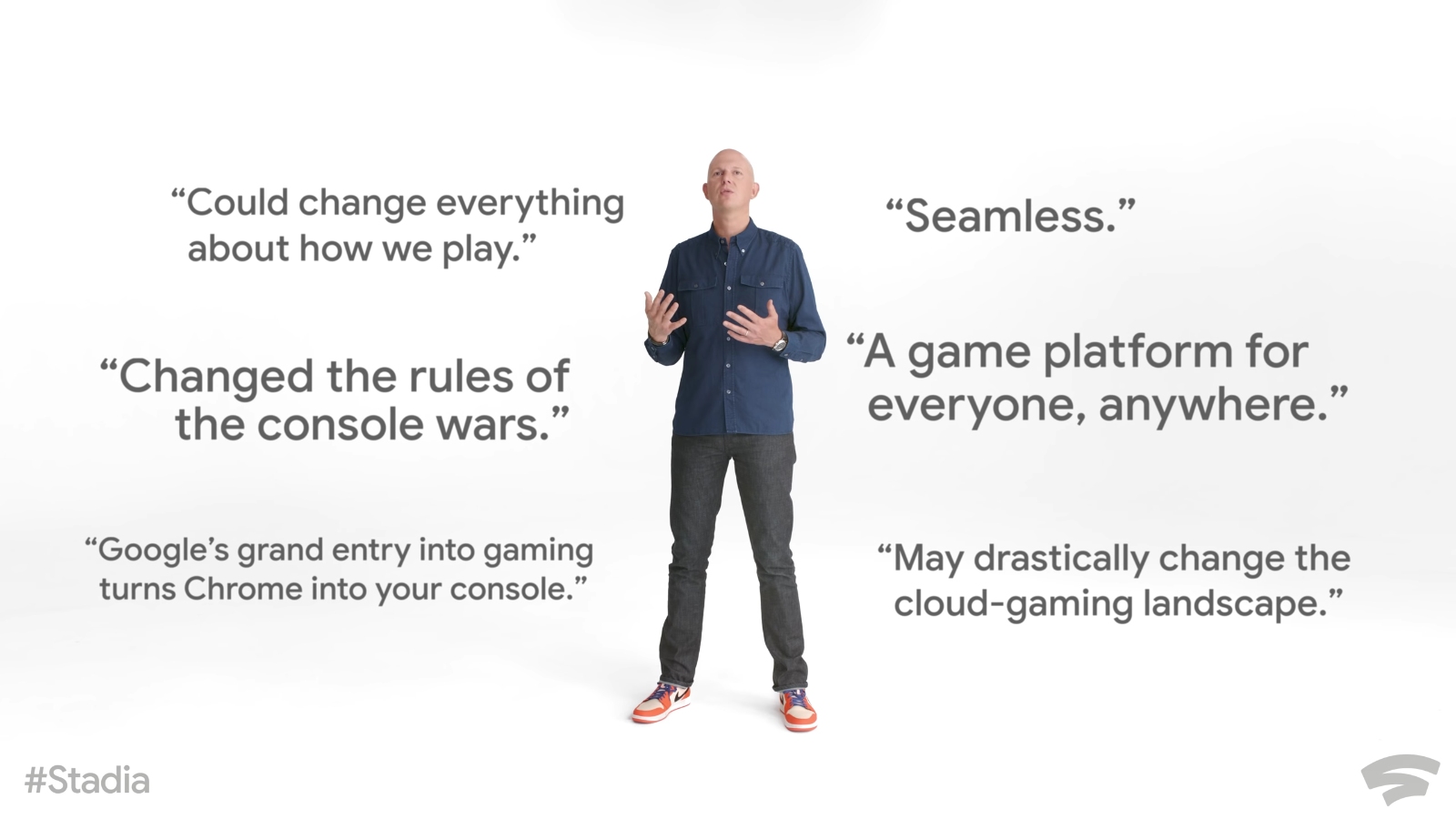 Though Google did not confirm these games would be launching day and date with the device, it seems likely that when Stadia releases this year, most or all of these games will be playable on it:
Dragon Ball Xenoverse 2 (Namco-Bandai)
Doom (Bethesda/iD Software)
Doom Eternal (Bethesda/iD Software)
Wolfenstein: Youngblood (Bethesda/iD Software)
Rage 2 (Bethesda/iD Software)
Elder Scrolls Online (Bethesda)
Darksiders Genesis (THQ Nordic)
Destiny 2 (Bungie)
Power Rangers: Battle for the Grid (nWay Games)
Samurai Shodown (SNK)
Football Manager 2020 (Sega)
The Crew 2 (Ubisoft)
Trials Rising (Ubisoft)
Assassin's Creed Odyssey (Ubisoft)
Ghost Recon Breakpoint (Ubisoft)
The Division 2 (Ubisoft)
Just Dance 2020 (Ubisoft)
Thumper (Drool)
Tomb Raider: Definitive Edition (Square-Enix)
Rise of the Tomb Raider (Square-Enix)
Shadow of the Tomb Raider (Square-Enix)
Final Fantasy XV (Square-Enix)
Borderlands 3 (2K/Gearbox)
NBA 2K (2K)
Mortal Kombat 11 (Netherealm Studios/Warner Bros.)
Farming Simulator 19 (Giants Software)
Metro Exodus (Deep Silver)
GRID (Codemasters)
Google definitely seems to be throwing its weight around with Stadia, given the presence of multiple fighting games and even a rhythm game on that list, genres which are notoriously the most sensitive to input latency.
Google also debuted three new games during the Stadia Connect presentation, including Baldur's Gate III, from the developers of Divinity: Original Sin (Larian Studios). The game follows the top-down RPG formula both Larian and past Baldur's Gate tames are known for. Larian has confirmed that BG3 is not a Stadia exclusive, and a Steam pre-order page is already live. What will be exclusive to Stadia is an indie game called Get Packed, a game about moving furniture through increasingly ridiculous and hazardous situations. It is not to be confused with the indie game Moving Out, which is an extremely similar premise (minus the Stadia-exclusivity bit). Finally, there was Gylt, a Coraline-esque horror game where you help a girl track down her missing cousin in an increasingly haunted town.
And then, lastly, the bandwidth requirements. Stadia will need at least a 10 megabits per-second (mbps) connection to maintain a stream of 720p at 60fps, with 35mbps required to comfortably stream 4K at 60fps. For comparison, viewing the average Twitch.tv stream at 1080p/60 usually requires around 5mbps. For the curious, Google has a Stadia bandwidth tester located at this link for you to see if you're ready to go (though as of this writing, it does not function).
As some have already pointed out, 35mbps of streaming would reach 1 terabyte of data in just two and a half days worth of time (65 hours). For many, that terabyte of data is their limit; any more than that and their ISP may start charging expensive overage fees or even shut the service off entirely. In the best case scenario, that 1tb of streaming data can be rationed out to a paltry 2 hours of play per day across 31 days, assuming you never use the internet for anything besides playing Stadia.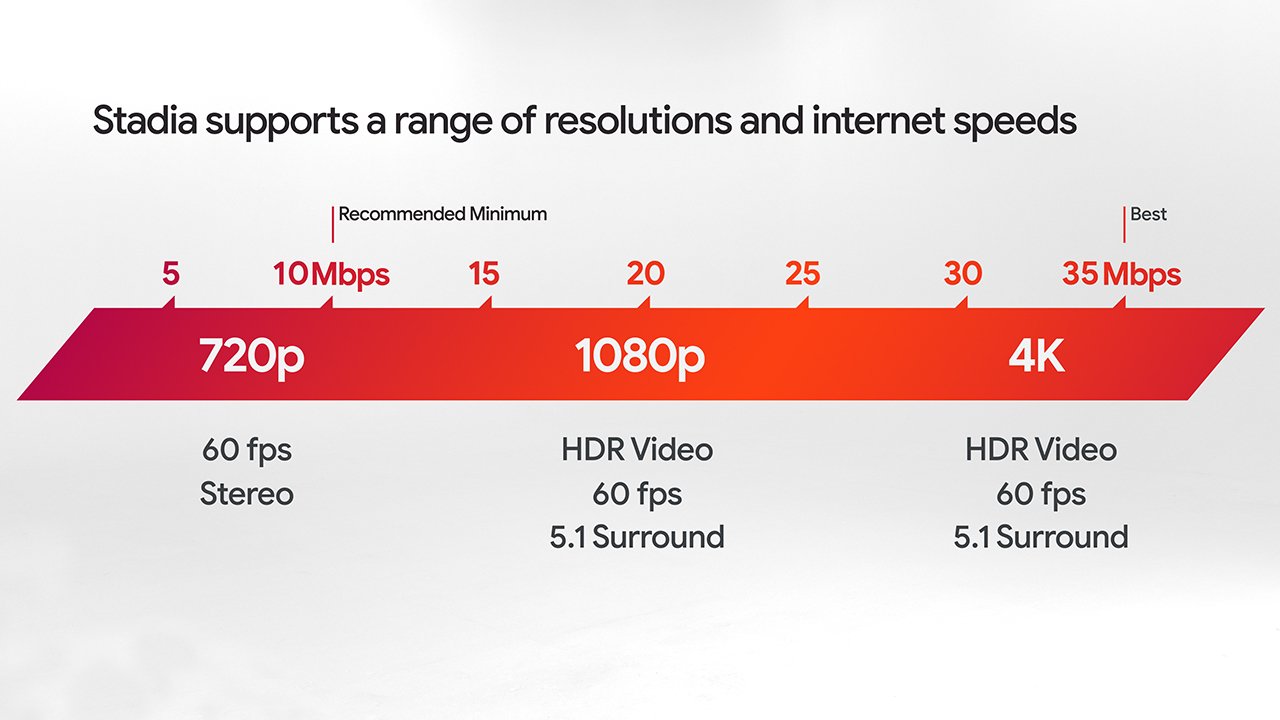 So that's your lot. What do you guys think of Google's Stadia? Do you feel like this was enough information to satisfy your curiosity, or is there still more you want to know? Do you think Google can deliver on these promises?
For my money, Stadia seems to still be a far-off promise of something that might eventually be functional next year, but it still has all the hallmarks of a service created for nobody. It's cheap, but not cheap enough, and will largely cater to people with nice internet… who probably also have enough money to spend on a good hardware setup that negates some of what Stadia is trying to sell. Doing a subscription model AND making you "buy" games that you don't technically own is also baffling. Remember: since your game data will live on a server miles and miles away, Stadia games won't have any kind of mod support. Even on the Playstation 4, when you buy a digital game, you're at least storing a copy of the data locally. Konami's P.T. might not exist anymore, but there are still ways to play it. If something like that happened on Google Stadia, it would simply be gone forever.
I'm sure Google is trying to make all of this as cheap and as convenient as they possibly can, but it's still not cheap or convenient enough. And Google, for their part, seems to be more in the business of killing projects that are not immediately successful these days. If Stadia's success proves to be an uphill climb, who's to say it'll still be around in even as little as three years? Most companies, like Microsoft and Sony, are positioning their streaming technologies as supplemental to their current console business — you'll still be able to buy a Playstation or an Xbox and play games normally, with streaming being an option that evolves over the next decade. Google is simply jumping in to the deepest end of the pool right now, hoping everything will just work out. Will it? Or will they sink straight to the bottom?
We'll find out soon enough.