Richard Jacques Criticizes Tee Lopes After Sonic R Remix Released
by Tristan Oliver
November 8, 2019
Sonic fans active on Twitter attempted to cancel longtime Sonic music contributor Richard Jacques Thursday night, after a critical response he wrote on the social media service to a remixed rendition of Sonic R's Can You Feel the Sunshine appeared to attack the remixed work's composer, Tee Lopes.
Jacques, a BAFTA nominee who first joined Sega Europe's in-house music team 25 years ago and has contributed to and remixed Sonic game soundtracks as recently as this year's Team Sonic Racing, deleted the Tweets after getting ratioed by many community onlookers. TSSZ has managed to save two of his remarks in repute: His original response to the remix and music video posted to the official Sonic Twitter feed, and his bailing out of several angry responses to his remarks.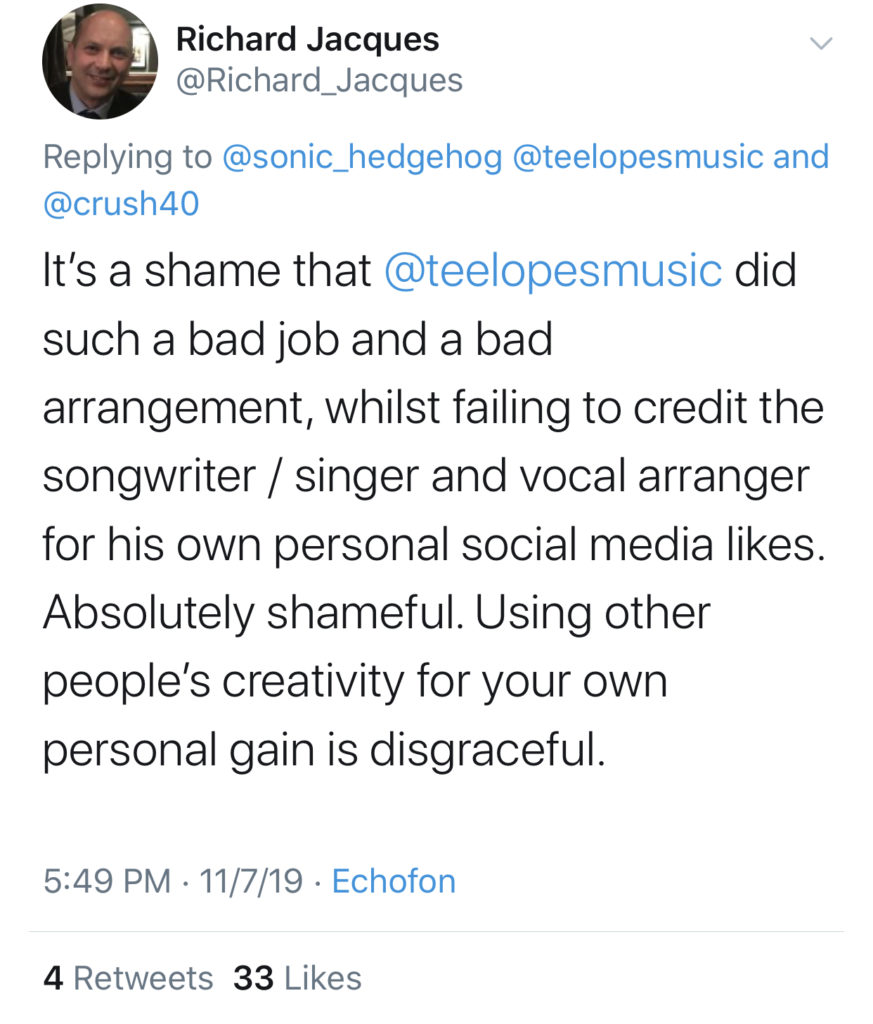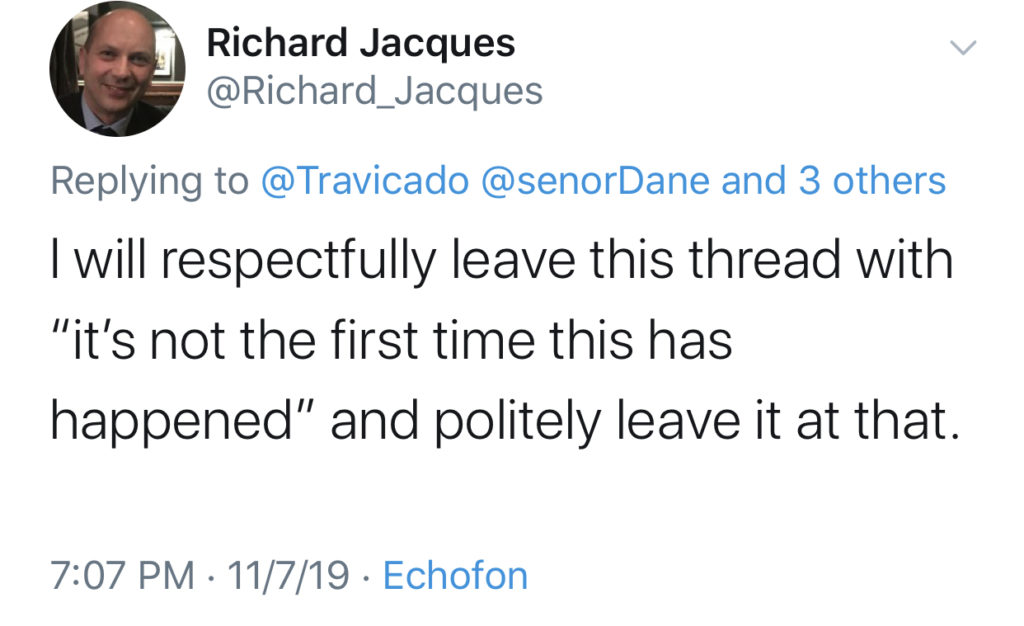 In these remarks, Jacques accuses Lopes of a "bad job and a bad arrangement," not ceding credit to him as the song's original composer, and exploiting the work for "personal social media likes." He also implies it's not the first time such a scenario has happened. In one Tweet not screenshot for posterity, Jacques cited a UK copyright law as part of his criticism and defense.
The Can You Feel the Sunshine remix, which also features Tee's sister Mariana and in-house Sonic composer Jun Senoue, has been viewed more than a quarter of a million times across social media since its release Thursday. It lacked proper credit in the post to Twitter, and observant fans noted a credit to Jacques only appeared on Youtube shortly after its publication.
Adding to the tension were some fans' queasy feelings of deja-vu, reminiscent of when former Sonic comic writer Ken Penders announced he owned the rights to characters and stories he created for the then-Archie series. Penders ultimately prevailed in a court settlement, upending a near 25-year continuity. It is unclear what agreements Jacques has, if any, regarding the rights to his compositions in Sonic games.
Today, Jacques moved forward, with only a passing mention of yesterday's events in a Tweet that's still active as of this article's publication waving the whole situation off as "nonsense." It remains unclear what exactly prompted Jacques to remove his original remarks from Twitter.
Usual Twitter nonsense?

— Richard Jacques (@Richard_Jacques) November 8, 2019
Lopes, for his part, took the high road in the middle of the social media storm, adding this to the conversation without direct mention of the controversy.
I just want to tell everyone who supports me and my work how much I appreciate you and how lucky I feel to have you by my side – my life is richer because of you, and I hope I too add some color to yours. No time for negativity – only Love, hard work and progress. I love you❤️

— Tee Lopes (@teelopesmusic) November 8, 2019
And TJ Davis, on vocals for the original music back in 1997, got tangentially and positively involved:
Love it, it's great 🙂

— TJ Davis (@teresajanedavis) November 7, 2019
Perhaps the best method to judge a work is to watch and listen to it yourself, so we have it embedded below for you to review.