Sonic X PUMA Line Begins Rollout Thursday
by Tristan Oliver
November 20, 2019
Over the weekend on The Final on TSSZ Plus, we showed you the first good look at the upcoming Sonic X PUMA partnership line of goods–which we also told you about on the Final back in early June.
Check out the new #Sonic x @PUMA streetwear collection! #SonicNews pic.twitter.com/5C40T6jtCZ

— Tails' Channel | Sonic the Hedgehog News & Updates (@TailsChannel) November 17, 2019
The line includes the new RS-X3 sneakers which will retail for $120, as well as a hoodie sweatshirt, T-shirt, beanie, and bag.
Initial reports indicated just the sneakers would be out tomorrow, Thursday, with a rollout of the rest of the line happening on February 7th. But a message from the official Sega of Japan Twitter account this morning suggests it is all dropping tomorrow – at least in that country – and to mark the occasion, the company had some high-profile models showcasing the goods: Sonic Team staffer Kazuyuki Hoshino and composer Tomoya Ohtani. The original Tweet was deleted, and then republished a short time later.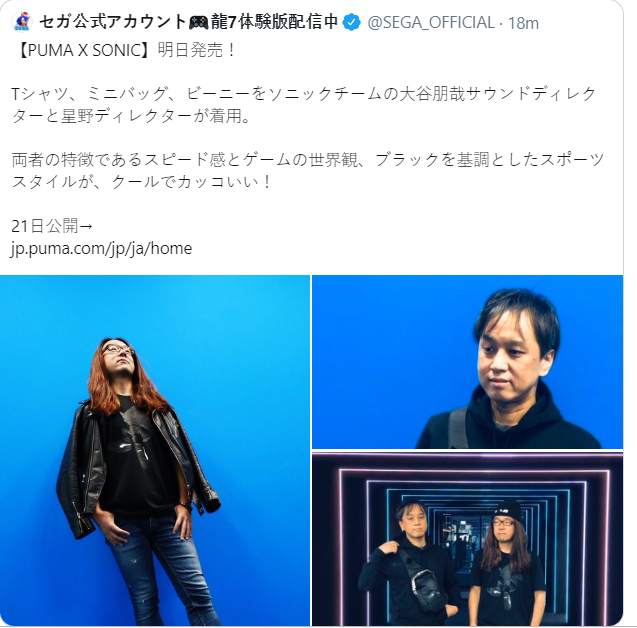 We'll soon see if availability extends beyond the planned worldwide sneaker launch on Thursday.